August 2014 Newsletter

Partners' Introduction
As yoga students, teachers and studio owners, yoga is a cornerstone of our life. The careful decisions we've made over the past 15 years have all been strongly influenced or initiated from our yoga practice. From career to love, our lineage is laid out in meditation journals, worn down sticky mats, post-it marked texts, and sweat stained tanks.
Our path is one of never ending enrichment. Last month we embarked on a 9-day yogahour teacher intensive in St. Louis with Darren Rhodes and Brigette Finley. CHY teachers Tricia Kull and Katie Rutterer also joined us along with 40 other fantastic teachers gathered from around the globe to hone our teaching skills. Our time in St. Louis was the culmination of the past year of intensive yogahour practice, study, and memorization. The study felt necessary and is indeed rewarding, but didn't always carry a lot of beauty or fun. All this is to say we take our quality of teaching very seriously. We are serious about our study so that you may be confident every class will offer accessible, clear, and concise instruction.
In your confidence for our level of instruction we hope you find something simply beautiful in every practice. Beautiful is to possess qualities that give great pleasure or satisfaction to see, hear, feel, and think about.
Yesterday I (Betsy) took a quick getaway to New York City and after shuffling through the crowds and crazy stimulation of Times Square I found myself completely joyful and enthralled with the broadway hit Beautiful: The Carole King Musical. It was fantastic in every way and immediately reminded me of what got me hooked on yoga in the first place. I experience what it is to be beautiful when I practice. I dream bigger and I walk off the yoga mat with greater clarity and joy.
Great performances open dreams. Great teachers open a path. Practice offers progress for the path, for dreams.
Have a beautiful day,
Betsy & Stacey
---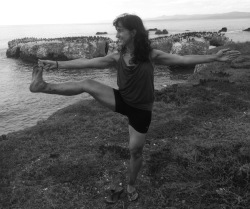 Student of the Month

Anita Bilbao

"Last fall I moved from my home of over 20 years in Portland, Oregon to Washington DC. It was a major transition, and I had a vision for what my new day-to-day would look like. It included living in the city, an easy commute, a neighborhood with trees, exercise and, of course, yoga! During the government shut down, I found Capitol Hill Yoga (CHY) and chose Eastern Market as the place I wanted to live. The CHY space and instructors offer an oasis in this large city. I like the blend of practice in yogahour, and "word of the day" provides a simple and powerful connection in what can otherwise be a fast moving blur. CHY has been an important part of my transition to a new place."
---
Upcoming Workshops

A yoga nidra workshop to give the busiest of people some much needed R&R. This workshop is all about rest, relaxation and rejuvenation. If you are looking for a break from your busy day-to-day, or a chance to re-energize and reinvigorate yourself, this is the perfect session for you.
Turn on your body's ability to relax and tune in as the stress and tension dissolves into blissful tranquility. Using soothing and deeply supported restorative yoga postures, this profoundly relaxing practice can shift your attitude, clear your mind, and heal your body. You will leave feeling completely revitalized and renewed. All levels welcome.
Yugahour is a unique posture packaged class that packs a punch of play and power. It covers the full gamut of posture: standing, seated, arm balances, and backbends. It's a great glimpse and preparation for yogahour® barefoot boot camp. This marks the debut offering of yugahour at Capitol Hill Yoga!
200 Poses. It's asana without much academia. It offers education via experience. Step in and introduce yourself to all of the poses of the yogahour syllabus over the course of the weekend. Arm balances only appear on Saturday. Backbends only appear on Sunday. All other poses appear both days. Whether you are new to yoga, a casual practitioner, or a serious yogini this practice is sure to make an imprint.
---
Pose of the Month

Eka Pada Bakasana / One Leg Crane

This gentle inversion is a great pose to do if you are feeling fatigued. It regenerates the heart and lungs and quiets the mind. This pose refreshes the legs muscles and enhances your circulatory system. This pose is beneficial for those who retain water and whose legs swell from standing for long periods at a time.
---
Have you contemplated deepening your study of yoga and/or becoming a yoga teacher? Our dream team - Darren Rhodes, Stacey DeGrasse, Betsy Poos, Brigette Finley, and Alexis Finley are ready for you! We still have a few spots remaining - training begins September 4.
The Capitol Hill Yoga - yogahour® Teacher Training program is a 200-hour Yoga Alliance approved program. At completion of the program, graduates are eligible to become certified yogahour® teachers and register with Yoga Alliance as a Registered Hatha Yoga Teacher.Yogahour is a flow style of yoga that emphasizes form via shape, safety, and refinement instructions. Yogahour aims to be the most doable yet difficult one-hour flow class offered anywhere. Many flow classes lack form and many form classes lack flow. Receive the tools to be a skillful yogahour practioner and teacher while deepening your knowledge of yoga history, philosphy, anatomy, and asana to empower teaching any form of hatha yoga.
---